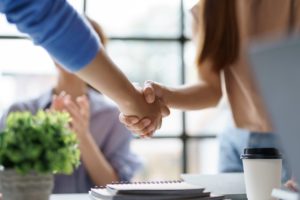 For immigrants, unlocking the doors to the U.S. job market is a pivotal step. Adhami Law Group, a trusted name in immigration law, is your partner in securing an Employment Authorization Document (EAD) or work permit, enabling you to embark on your career journey within the United States legally.
Adhami Law Group's Employment Authorization/Work Permit service is tailored to guide individuals in procuring the necessary documentation for legal work in the U.S. Our experienced attorneys recognize the significance of timely and accurate work permit applications. With efficiency and expertise, we lead you through the process.
We assess your eligibility for an EAD or work permit based on your immigration status and situation. Our dedicated team aids you in assembling and organizing the required documents, ensuring your application meets all essential criteria.
Recognizing the urgency tied to obtaining a work permit, given its direct impact on employment prospects, we prioritize the swift and meticulous preparation of your application. We aim to minimize delays and expedite the process.
Throughout the application journey, transparent communication is upheld. We keep you abreast of your work permit application's progress and readily address queries or concerns you may have.
Our goal is to facilitate the acquisition of the work permit that paves the way for your professional aspirations and contributions to the U.S. workforce. Be it employment-based work authorization, DACA (Deferred Action for Childhood Arrivals) work permits, or other types, Adhami Law Group is equipped with the knowledge to guide and support you.
Reach out today to schedule a consultation. Allow our seasoned immigration attorneys to aid you in securing the Employment Authorization Document or work permit that aligns with your immigration status and career ambitions. Your path to professional growth starts here.